The Interweave store
The following projects were all designed by me and have been published by Interweave Press in either Beadwork magazine, or on Beading Daily, and are now available to purchase via the Interweave store.  Simply click on the titles of the projects and you will be taken to the relevant page of the online store where the individual patterns are available via electronic download.
Please note – that these links will take you to the Interweave store.  The patterns that are available directly from me are on the 'Tutorials for sale' page.
Interweave says;
"This brick-stitched version of the popular ribbon pin was inspired by Kerrie's mother, who had treatment for breast cancer.  Change the color of the ribbon to match the cause."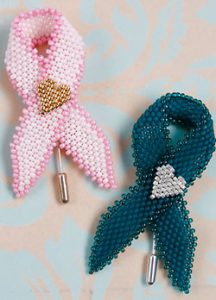 Interweave says;
"Crystal cosmic rings and lapis lazuli beads are paired to form the eye of this beautiful beaded peacock "feather." Add a spiral herringbone rope and the resulting lariat is art nouveau gorgeous."
Interweave says;
"This fashionable choker is a straightforward netted band embellished with a circular brick-stitched starburst medallion.  The result is an accessory that is out of this world."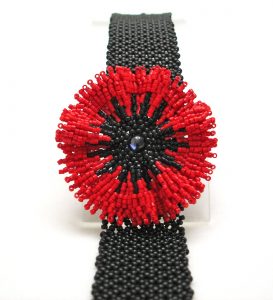 Interweave says;
"Cleverly combine two types of brick stitch to form perfectly shaped flowers.  Attach them from petal to petal for a pretty choker-style necklace."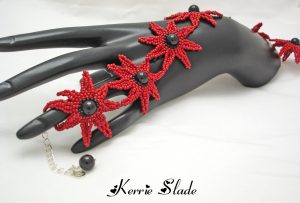 Interweave says;

"This pair of olive-motif earrings offers up a great way to combine a myriad stitches into a small delicate project.  Plus, learn to whip up your own ear wires in minutes!"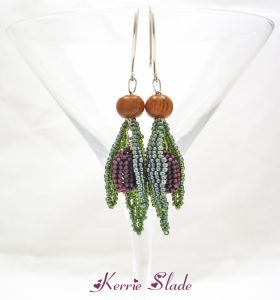 Interweave says;
"This graceful necklace depicts three brick-stitched frozen blooms hanging from a simple sterling silver chain."