Playful Perfection book
The new Playful Perfection project book has been written by me in association with PRECIOSA Traditional Czech Beads™. This is a hardback 150 page book containing 30 projects divided into 4 sections; Necklaces, Bracelets, Other Jewellery and Decorations. Each project includes a few words about the inspiration behind the design, useful information about the piece (such as size, technique and difficulty level), a list of required materials and tools and step-by-step instructions with detailed diagrams.
The projects use a variety of widely available shaped beads, seed beads and findings. Playful Perfection is a collection of some of my design work with PRECIOSA ORNELA and pulls together 19 projects that have been previously published in various international publications (some of which have been reworked), together with 11 brand new and exclusive projects.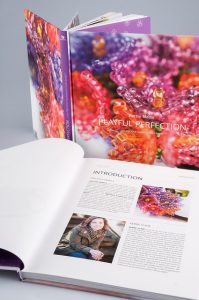 The book will be available from distributors of PRECIOSA Traditional Czech Beads and bead stores around the world, but there is a limited supply of signed copies of the book for sale directly from me. This is a substantial book weighing close to 1kg so the postage costs are quite high and the book will be dispatched using standard first class Royal Mail services. Please allow sufficient time for delivery and be aware that the upcoming holiday season may cause delays.
Postage: UK £20.00 – includes a signed copy of the book, packing and first class post within the UK.
Europe £24.35 – includes a signed copy of the book, packing and standard postage within Europe outside of the UK
Rest of the world £30.35 – includes a signed copy of the book, packing and flat rate standard international postage outside of the UK and Europe.